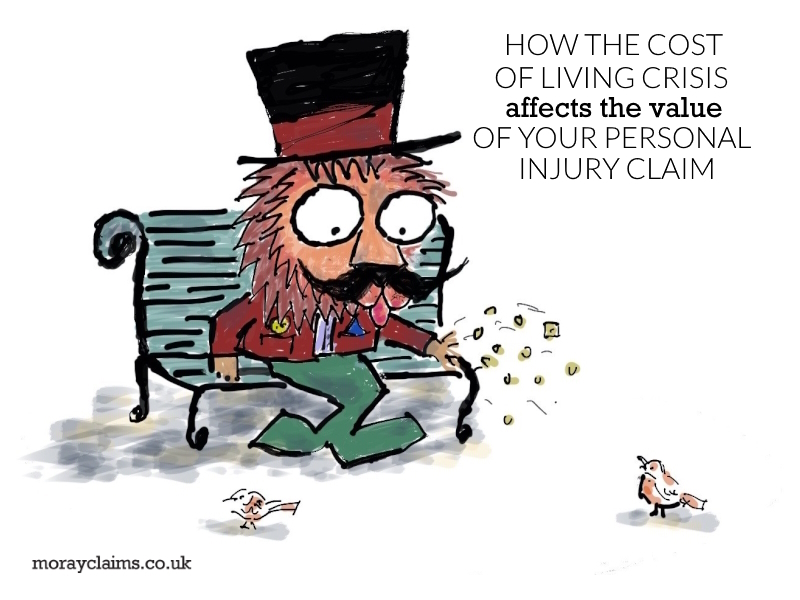 In July 1971, a sliced white loaf of bread would have cost you 10 pence.
In July 2021 the cost would have been £1.06.
The Retail Price Index ("RPI") shows an average cost for the same loaf of bread as £1.36 in July 2023.
The rise in prices over time is known as inflation.
It can also be described as the decline of purchasing power over time.
In the present Cost of Living Crisis, the upward trend in prices is affecting most things and that includes personal injury compensation (compensation also sometimes referred to as "damages").
The injury part – for the "pain and suffering" associated with the injuries – of a personal injury compensation claim is just one element of the value of the claim as a whole. Other elements can include wage loss and necessary travel expenses. In this article, we are only discussing the injury part of personal injury claims. This can be variously described as "pain and suffering", General Damages and solatium.
Solatium is the Scots Law name for compensation for pain and suffering in a personal injury claim. It is a Latin word which has traditionally used to describe such compensation in Scotland.
Compensation for the injury element of personal injury damages is generally assessed by reference to published guidelines.
These are known as the Judicial College (or "JC") Guidelines.
The Guidelines' full title is The Judicial College Guidelines for the Assessment of General Damages in Personal Injury Cases.
Do the JC Guidelines need to be adjusted for inflation?
A case from Coventry County Court (decided in March 2023) has confirmed that, under certain circumstances, the Guidelines need to be adjusted for inflation when assessing the "pain and suffering" resulting from an injury.
Let's look at the JC Guidelines' background and the circumstances of this case.
The current addition of the Judicial College Guidelines was published in April 2022. The figures in that 16th Edition were based on prices in September 2021.
In the intervening period, we have had levels of inflation in the UK which we have not seen since the 1970s. Inflation was up to 13.4% per annum according to the Office of National Statistics data released in February 2023.
The purpose of personal injury compensation is to put injured persons back in the position they would have been but for their accident.
Of course, restoring you to your pre-accident position – and providing you with "full compensation" – can only be "as far as money will allow".
Financial compensation cannot always easily reflect losses. Wage loss can be calculated arithmetically but "pain and suffering" from injuries cannot.
The Guidelines do not take into account future inflation.
The judge in the case in question considered that the very significant drop in the value of money which had taken place since April 2022 was a "change in circumstances" which he needed to take into account.
The claim in this case (Blair -v- Jaber) resulted from a road traffic accident.
The claimants were passengers in a taxi and the driver had slammed on the brakes as they reached a roundabout, without good reason, in the view of the judge.
There was a reduction in compensation payable to each of the claimants of 25% (for contributory negligence) to reflect the fact that they were not wearing the seatbelts provided.
But the main cause of the accident had been the excessive braking by the driver, so the driver was 75% responsible.
One of the claimants had suffered a broken collarbone.
The relevant section of the JC Guidelines covering fractured clavicles gave a suggested range of injury valuation of £5,150.00 to £12,240.00.
The judge decided that a figure of £8,000.00 was appropriate in terms of the Guidelines and that would be adjusted for inflation to give a final valuation of £8,500.00. (Note that, despite what the judge said – approximating to the February 2023 RPI data mentioned above – this is not apparently an increase of 12%, which would have taken £8,000.00 up to £8,960.00.)
The Judicial College Guidelines are usually revised and republished approximately every two years.
The decision in this case, however, makes the very relevant point that, at least during times with very high rates of inflation such as the present, it is reasonable and necessary to allow for inflationary increases in the level of "pain and suffering" damages, even between editions of the Guidelines.
Personal injury solicitors have access to and regularly apply "inflation factors" to bring awards of compensation in previous reported court decisions up to date so it is to be expected that the same could apply to the figures quoted in the Judicial College Guidelines. The inflation table in the standard Scottish textbook (McEwan and Paton on Damages for Personal Injuries in Scotland) gives an inflation factor to bring 1971 prices up to date of 18.57. That would, in fact, predict a present day cost for the 10p sliced white loaf of 1971 of £1.86.
It's not an exact science. Much of the law on valuation of solatium is "broad axe". Another word for that might be "woolly" or "vague".
Summary
When you are valuing the injury – or "pain and suffering" part of a personal injury compensation claim in Scotland, the Judicial College Guidelines are the usual first point of reference.
In Scotland, "pain and suffering" damages are known as solatium,
The JC Guidelines will not always be adjusted to take account of inflation but, in times of high inflation, such as the period from 2022-2023, the courts may make an allowance – in order to increase the amount of the compensation awarded – to reflect inflation.
You can see how unusual the current inflation factors are if you compare the recent inflation factors for 2023 with those from 2019.
In 2019, to update an amount from"last year" (i.e. 2018) to the present (2019), you multiplied it by 1.03. For a 2017 value, you would multiply it by 1.07.
Looking at the same thing through 2023 spectacles, however, a "last year" award (2022) needs to be multiplied by 1.13 and one from two years ago (2021) should be multiplied by 1.22. You can see for yourself that the differences (1.03 -v- 1.13, and 1.07 -v- 1.22) are significant.
Whether we're talking about "bread" metaphorically as "money" or as "the food we need to live", it's clear that we need to keep an eye on how its value or amount can at least be preserved – by not forgetting about inflation – if not increased.
How we can help
We hope you have found it useful to see how inflation is – or can be – taken into account in calculating the value of a personal injury compensation claim in Scotland.
Should you have any questions resulting from this article, please feel free to get in touch with us.
If you need advice about a possible personal injury claim and you think a free case assessment would be helpful to you – assuming we are local solicitors from your point of view – why not send us a Free Online Enquiry?
It is in your best interests that someone with experience and specialist knowledge gets going, reviewing and investigating your claim, as soon as possible.
Have a look at the article HERE, if you want to understand more about what will actually happen if you get in touch with us to discuss making a personal injury compensation claim.
Our aim is to help people in Moray to claim fair and full compensation for personal injury in such a way that it costs you nothing, whether your claim succeeds or not. We are specialist, accredited solicitors – at Grigor & Young LLP, Elgin.
Why not give us a call on 01343 544077 ? – or you can send us a Free Online Enquiry.
Make A Free Online Enquiry Now
Links you might like: