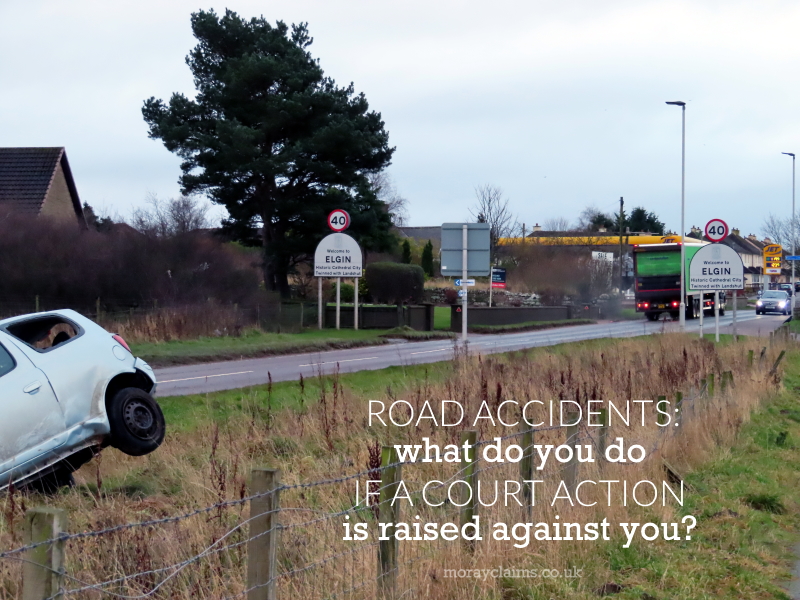 We regularly get enquiries from people who have had a court action raised against them following involvement in a road traffic accident.
If you are in that situation, what should you do?
The typical scenario runs like this …
You've had an accident with another vehicle when you were driving your car.
The accident was your fault.
The other vehicle was damaged or written off and the other driver was injured.
Hopefully, you had comprehensive insurance and so your own vehicle will have been repaired or replaced by your insurers. They may also have told you they have settled the other party's claim – by paying for the repair or replacement of their vehicle.
Months later, out of the blue, you receive an Initial Writ or Summons (depending on whether the action against you is in the Sheriff Court or the Court of Session). This can be a startling experience, especially if the action is served on you by a Sheriff Officer or Messengers at Arms. The other driver – or maybe a passenger in that vehicle – is raising an action against you claiming damages for their personal injuries and other losses.
Raising a court action is the 'final step' in pursuing a claim for personal injury compensation where negotiations have broken down for whatever reason.
The paperwork will tell you – in the usual case – that you have 21 days to notify the court whether or not you intend to defend the action.
Contact your insurers …
It is not generally up to you to take on the defence of the action yourself.
All you need to do is make sure that your insurers are aware that an action has been raised and be willing to co-operate with them and any solicitors appointed by them in the defence of the claim.
There may be no defence on liability (i.e. whether or not the accident was your fault) but there will usually be a dispute about the value of the claim.
Bear in mind that it is the insurance company you had at the time of the accident that you need to notify. You may have changed your motor insurer by the time any action is raised against you.
Also, note that those insurers will almost certainly know about the proceedings anyway, as it is a requirement under the Road Traffic Act that the raising of a personal injury action arising out of a road accident must be intimated to the relevant insurer.
… or contact the solicitors that raised the action against you
If you are not sure how to contact your own insurers – perhaps because you have lost or disposed of all the correspondence you had with them – another option is to contact the solicitor for the person (the pursuer) who has raised the action against you.
Their details will be prominent on the court papers you have received – including their telephone number. They should be able to give you the details of your insurers or the solicitors that have been appointed by your insurers to defend the court action.
There should not be any question of you having pay a solicitor to represent your interests in this type of situation.
Your insurers should take on the responsibility and cost of dealing with the defence of the court action. That's why you have the insurance in the first place.
What if there are problems with your insurance?
Complications can occur if your insurance was in some way invalid at the time of the accident. There will still usually be an insurer or, in the last resort, the Motor Insurers' Bureau, to take things on for you in the first place.
However, they may be looking to you to reimburse their costs at the end of the day in that situation. If there are problems of this nature, it would be a good idea to get legal advice about your options.
How we can help
If you have any questions at all, you can call us on 01343 544077 or you can send us a Free Online Enquiry. All initial enquiries are free of charge and without obligation.
We are accredited specialist solicitors at Grigor & Young LLP, Elgin and Forres, Moray.
The article HERE has more information, if you want to have a better understanding about what will actually happen if you get in touch with us regarding making a personal injury compensation claim.
Make A Free Online Enquiry Now
EDITOR'S NOTE: This is an updated version of an article originally published on 15 April 2013.