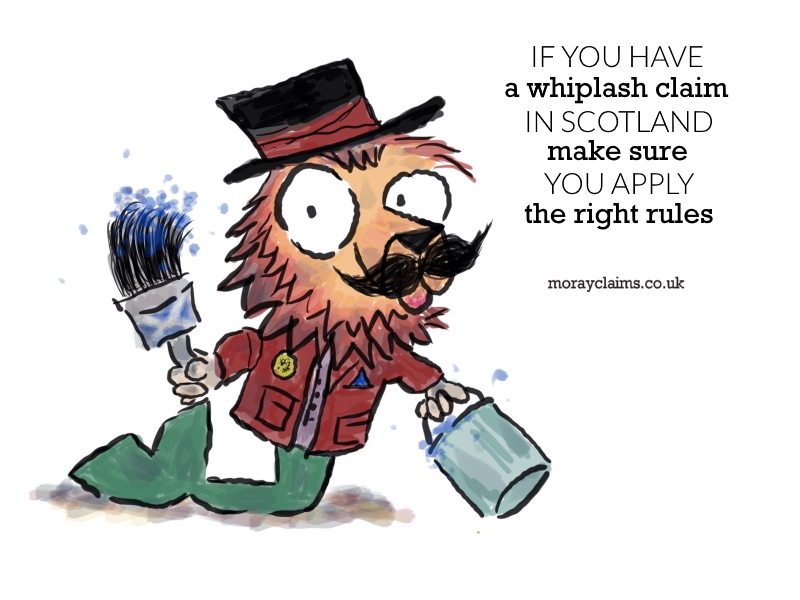 In Scotland, we are used to being lumped in with England and other parts of the UK in all sorts of situations where that may be misleading or even wrong.
Sometimes the law is the same in Scotland as in the rest of the UK and sometimes it's not.
Personal injury claims are usually based upon negligence of one person causing injury to another. The modern law of negligence for the UK (and much of the world) is based on the Scottish "snail in the ginger beer bottle" case of Donoghue –v- Stevenson.
But some areas of personal injury law differ markedly between the jurisdictions. For example, the law relating to claims in cases of fatal accidents and payment of bereavement damages to relatives of deceased persons. Scotland has had a more 'generous' compensation scheme in this type of case than the rest of the UK for a long time.
But one area where there has been a parting of the ways between Scotland, on the one hand, and England and Wales, on the other, has come as recently as May 2021.
The type of claim affected is whiplash injuries to the spine caused by road traffic accidents.
The perceived problem they wanted to 'fix' in England Wales was high insurance costs.
Reform, according to the Westminster Government, was needed to "reduce insurance costs for ordinary motorists by tackling the continuing high number and cost of whiplash claims."
In England and Wales, these claims have been taken out of the mainstream.
It means it is now more difficult for injured claimants to recover legal costs in addition to their compensation (i.e. they'll have to pay for any legal advice out of their compensation).
Worse than that, a tariff system for compensation for RTA whiplash injuries has been introduced in England and Wales – compensation levels have been reduced.
So, it's a double whammy in England and Wales. You're probably going to get less compensation for your whiplash injury than under the old system. And you won't be able to recover from the opposing insurers the cost of getting independent legal advice any more either.
For you as the injured person, less money comes in by way of compensation and more money goes out for legal help (should you choose to get it).
The difference in compensation levels between old and new systems is significant.
For example, a whiplash injury with symptoms lasting up to 3 months is worth about £250 under the E&W tariff system. Under the "old system" – and under the system which still applies in Scotland – you could be looking at compensation of up to around £1,500 for a whiplash injury lasting 3 months.
The Association of Personal Injury Lawyers (APIL) have pointed out that someone who has their flight delayed or cancelled is entitled to up to £520 in compensation.
A cancelled flight (£520) is nothing compared to three months of pain (£250). And perhaps pain with sleepless nights too. Maybe also three months during which you're unable to look after a young child properly because of your injury. Wouldn't you agree?
If you take one thing away from this article and one thing only, please let it be this:
If you suffer a whiplash injury in a Scottish road traffic accident, get specialist legal help.
Why?
Because you should be able to recover the cost of advice in full – in addition to your compensation.
And getting that specialist advice will make sure you don't risk getting fobbed off with the wrong (i.e. too low) compensation level/tariff.
The problem is that the Scottish legal procedures and rules in this area will get buried in the marketing and press which applies to the equivalent claims in England and Wales. This will result in some folk in Scotland deciding not to bother claiming because they think their claim is not worth enough to justify the effort and/or they fear the possible legal costs they may run up and not recover. Of course, they would be wrong about that.
How we can help
If you have any questions arising from this article, please do not hesitate to contact us. Read the article HERE, if you want to understand more about what will actually happen if you get in touch with us about making a personal injury compensation claim.
If it turns out that we are not the best people to help you directly, we'll do our best to suggest a suitable alternative specialist legal adviser (or the best way to find one).
Our aim is to help people in Moray to claim fair and full compensation for personal injury in such a way that it costs you nothing, whether your claim succeeds or not. We are specialist, accredited solicitors – at Grigor & Young LLP, Elgin.
You can call us on 01343 544077 or you can send us a Free Online Enquiry.